7 Investment Strategies During Economic Uncertainty
Coronavirus (COVID-19) frenzy is now at a fevered pitch with officially being identified as a pandemic by the World Health Organization and the U.S. is in a national state of emergency by President Trump.
As a result, the stock market has taken a beating, particularly on Thursday, which resulted in the worst single day of trading since the "Black Monday" crash of 1987. The Dow Jones Industrial Average was down by 10% but made most of that up on Friday.
These are tumultuous times, and that begs the question-
What the heck am I supposed to do?
First, take a deep breath, and we will break down seven investment strategies during economic uncertainty:
1. Don't Panic
This one may be the toughest. You have checked your retirement accounts this week, and they could have been down as much as 28% from the week prior. Plug your eyeballs back into their sockets and keep carrying on.
Unless you are an uber investor who enjoys peering over your long-term investments daily, chances were that you were not viewing your holdings very frequently. Is it one thing to be aware of market happenings and another to obsess and worry about your future. Turn off your phone for a while, talk a walk, and by the end of this article, your heart rate and breathing should return to normal, pre-Coronavirus levels of normal.
2. Develop a Plan
Just like shopping for clothing, a new car, or a home, not many things are one size fits all. Just like financial plans, many parameters, intricacies, and nuances go into devising a plan for you.
Your long-term planning should not be impacted by a 20% market drop. We have seen recessions, bear markets, and collapses in the past, and every time the market has come back eventually.
During this time, you may want to change or diversify your assets.
Here are 4 alternative investments during economic uncertainty
1. Bonds
Historically less risky than stocks, it is suggested to allocate more in bonds as you grow closer to retirement age.
2. Cash
Not under the mattress, but in a high-yield savings or money market account, so it's there if you need it.
3. Gold
Typically gold roars when markets are groaning. Gold prices are down 9% this week if the past is any indication of future performance, during the Great Recession gold was up 24% while the markets were down 37%.
4. Cryptocurrency
The crypto market has been hurting as much as the overall market, and many coins are "on sale." Binance is among one of the most trusted sources to purchase and trade crypto.
With this global pandemic upon us, now is an excellent time to reevaluate your long-term financial planning goals. It is a little late to have built up cash reserves for this crash, but next time you may be better prepared with long-term financial planning.
3. Purchase
Be greedy when others are fearful – Warren Buffett
Not to say that we are anywhere near the bottom of this roller coaster as experts suggest we may fall into recession as a result of Covid-19.
If you have extra cash to spare, now is a great time to add additional investments to your portfolio as many items are on sale.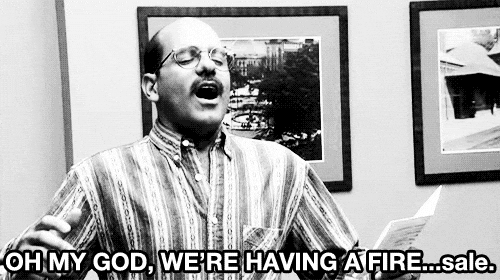 Here are a handful of investments to consider:
American Express- In the short term, folks are stocking up on supplies & in the long run, if we do fall into an economic recession, more items will be purchased on credit.
CVS Health- A recession-proof pick in health care as when folks are sick, they need medication regardless of what the Dow Jones does that day.
Twitter- One of Mark Cuban's pickups this week, as they were down 31% from their February high this week. Cuban believes the social media news behemoth will see an uptick in daily users, and I do too.
Delta- At close on Thursday, March 12, Delta stock was down 43% from its February high. It is assumed people will want to travel again, maybe in six months or not for two years. This is a long-term hold.
Costco- As shoppers across the country fight over toilet paper, this is one stock that has rebounded nicely this week. Investorplace said it best, "Costco Stock is a Safe Harbor from the Coronavirus Panic."
You would rather buy anything cheaper, on sale, than opposed to full price, right? The same goes for investments.
Buy low and sell high!
4. Don't Sell
The only people who get hurt on a roller coaster are the ones who jump off – Dave Ramsey
The rollercoaster, in this instance, is not just a literal one but also the rollercoaster of the ups and downs of the stock market. Dave is saying not to sell when there is much volatility in the market as the market cannot be timed. No one knows what is coming next, a rise or a fall, not even the experts.
If you would've sold assets on Thursday when the market was down 10%, you would have missed out on the gains on Friday, where the market popped back up to where it was Thursday morning.
Do you remember 2008? I had friends tell me that their grandparents lost $500,000 overnight because of the stock market collapse. That is only true if they sold.
Did you know that if one had kept all of their investments in 2008 and didn't sell, it is worth triple?
Yes, even with our recent pullback, the market is still 200% higher than what it was in 2009.
In accordance with the adage of "buy low and sell high," you don't want to sell when the markets are low like they are now. Buckle up, and this roller coaster will go back up. It may be a wild, bumpy, and tumultuous ride, but eventually, we will return on an upward trend!
Do. Not. Sell.
If you are of retirement age and tempted to pull some out because you want some liquidity. Sure.
If you are under the age of 60 and not needing to touch this money for at least five years. The money stays put. Kapeesh?
5. Use Credit Cards
According to a 2018 Federal Reserve report, 40% of Americans cannot handle an unexpected emergency.
Pretty sure costs incurred by a pandemic that is impacting all facets of the global economy qualifies as an emergency.
On Thursday, The CDC says that Covid-19 testing will be covered. Great news for the millions of uninsured and underinsured Americans with little to no access to medical care. However, there still may be medical bills that are not promised to be covered with no out of pocket costs.
Here are 4 items you might consider putting on a credit card during economic uncertainty and crisis:
Doctor bills- clinic visits, hospital bills
Supplies- Gotta get that toilet paper
Groceries- Rice and beans anyone?
Medications and supplements
Before aimlessly placing expenses on credit cards, which are notorious for high interest, please check the latest in national relief as the pandemic progresses. The White House has stated payroll tax decreases, loan $50 billion to small businesses, and some people and companies can defer their 2019 tax bill three months past April 15th
6. Defer Non-essentials
With little cash or cash equivalents reserves on hand and priorities being reshuffled, now it's as important as ever to know the difference between a want and a need.
You might say, "Netflix is a need during this time!"  (Especially with all sports leagues delayed or canceled including March Madness.)
Is it really, though? I still might say yes.
On a serious note, if you have only a couple of hundred dollars in your bank account and you get an email stating your job is shut down for two weeks, what are you to do?
Now, the White House did just announce an agreement was reached on a Coronavirus economic relief package that does include paid sick leave for the affected.  But it doesn't solve all of our problems.
What if you're in the now more than a dozen states that have shuttered K-12 school's doors and you are still to go into work and now need to pay for childcare? Childcare is a need and not a want.
List of Needs- Buy and continue paying until told otherwise
Food & water – not an ungodly amount!
Shelter
Utility bills
List of Wants- Consider not buying during the near future as your budget allows
A new iPhone
Subscription services like Netflix, Hulu, Spotify
President Donald Trump has claimed interest will be waived for federal student loans. More relief in the form of debt payment deferment may come soon. In the meantime, pay minimum payments, stock up on cash, as this may be a wild few months.
7. Diversify Income Streams
Diversification in finance often refers to allocating assets to a plethora of different assets. Basically, not placing all of your eggs in one basket.
Here, we will apply this same concept to your income.
The importance of keeping your income up is every extra dollar you can earn can be used for purchasing items you might need and can we have used for investing. In economic downturns, your buying power increases due to lower prices in the market.
Bottom line- If you only had one job or stream of income and that channel was recently shut down due to closures and cancelations, you don't have many options. But, if you have multiple streams, one of the streams shutting down is not as big of a burden.
You can diversify your income today!
Here are some idea starters to get your income up and in different channels.
What do you like to do?
What are you knowledgeable about?
Are there shortages or niches in the market can you help fill?
Note- Remain calm, act rationally, and consider putting others above yourself during these trying times.